ERGONOMICS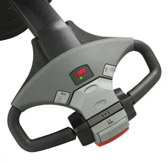 Multifunction control handle with ergonomically angled hand grips
Dual thumb wheels with twist grips for directional control and travel speed
High-speed interlock
Fingertip control of lift, lower and horn functions
Curvilinear hand rail contoured and cushioned for a natural, comfortable feel
Low-effort control handle
Soft-cushioned rider platform
Low platform step height
PERFORMANCE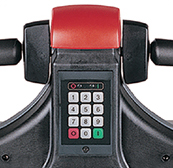 6,000 & 8,000 lb capacity
24-Volt electrical system
6? lift
AC Drive System with thermal protection and current limiting
Fault code memory with hour meter reading
Regenerative braking
Programmable performance parameters
Multiple hour meter indicator
Battery discharge indicator with lift interrupt
Fused control and power circuits
On/off key switch
Lift limit switch
Hydraulic overload protection valve
Dual lift cylinder design
Drive-thru freezer curtain feature
SERVICEABILITY
AC drive motor (no brushes or commutator)
One-piece, lightweight service access cover
Teflon coated polylube lift linkage bushings (maintenance free)
Error indicator with self-diagnostics
SAFTEY
Stability hand rail with lift, lower, horn and high-speed functions
Wrap-around hand guard
Spring-loaded control handle
Directional reverse switch on control handle
Runaway protection
Polyurethane torsion block stabilizing casters (only standard on 84? fork length.)
Electronic horn
DURABILITY
Controller Area Network (CAN-bus) communications
Welded construction with reinforced heavy-duty bumper
Powder-coat paint finish
Box rail fork construction
Steel gusset reinforced rider platform
Steel bulkhead wrappers
Forged rectangular steel tension rods
Heavy-duty bushings and pins
Solid trail fork castings
Tapered fork tips with pallet entry slides
Four-point lift linkage
High-strength polymer service cover
Fiberglass reinforced rubber drive tire
Polyurethane load wheels with steel hubs
Hall-effect switches
OPTIONS
Galvanized Chassis Suited for customers who move materials in and out of: cold storage facilities; chemical and salt and brine industries; or in areas where frequent wash down is required to remove contaminants.
Battery Compartment Rollers with Dual Side Gates Option provides rollers at the bottom of the battery compartment and dual side gates. Allows the battery to be rolled out from either right or left hand side of the truck.
Pallet Entry/Exit Rollers Option replaces the standard pallet entry/exit slides with durable hard polymer pallet entry/exit rollers.
Dual Tandem Load Wheels (3.25" x 2") Option replaces the standard single polyurethane load wheels with "Double Boggie" style load wheels.
Battery Side Gate Interlock Switches Option helps warn the operator if either left or right hand side battery side gate is left open.
Storage Tray with Clip Board, Load Backrest Mounted An ABS plastic tray designed to carry pens, markers, tape, utility knife, paperwork and other various work materials.
Lubrication Package For Pivot Points (Grease Fittings) Option replaces the standard maintenance free Teflon® coated Polylube™ bushings at the lift linkage pivot points with greaseable bushings (grease fittings).
SPECIFICATION CHART
| | | | | | |
| --- | --- | --- | --- | --- | --- |
| 8HBE30 | 6,000 | 6.2 | N/A | 10 | 85.4 |
| 8HBE40 | 8,000 | 6.2 | N/A | 10 | 129.3 |
* Based on 24" load center.
** Add load length and clearance.